Louis Gabriel Pouliot
Scientific affairs and geomatics
Louis Gabriel Pouliot holds a bachelor in geography and a Master in water management from the University of Montreal as well as a graduate diploma in comparative anthropology from the University of Quebec in Montreal. Hydrogeomorphologist by trade, he's working towards developing a fine understanding of fluvial dynamics in all due modesty for their complexity. Sailing across disciplines in order to contribute to the protection of waters,  he believes in the potential of the legal personality of watercourses as a tool of ontological dialogue and integral protection of the land.
Sokhna Sene
Head of the Africa Project
With an undergraduate degree in Environmental and Workplace Health, Sokhna Sene has an academic background, combined with field experience that has enabled her to work strongly in environmental protection.
In addition to her work in Health and Workplace Safety risk prevention, she has participated in the drafting of environmental assessment reports, helping Senegalese companies improve their ecological footprint while proposing innovative solutions that respect the environment and the regulations in force in Senegal. She has developed a keen interest in the preservation of water resources, a resource that she considers so precious but also threatened in the future due to climate change. She advocates for a paradigm shift by emphasizing the potential for action and practice of each of us to ensure better sustainable water management.
She is currently pursuing a Master's degree in Environment and Sustainable Development, specializing in water management at the Université de Montréal.
Émilie Doyon
Editor-in-chief
Having already received her Bachelor of Arts degree from McGill University with distinction in Feminist Studies, Émilie Doyon is currently doing her LL.B and J.D. degrees at Université de Montréal. In law, she works as a research assistant for Prof. Miriam Cohen (human rights). Since her first year of law school, Émilie has been involved in her community through the Student Pro Bono Network of Canada, at the small claims court and as a canadian human rights researcher.
In her spare time, Émilie enjoys running, rock climbing, and playing outside.
She is personally invested in the fight for the recognition of human rights and the rights of Nature. Émilie profoundly believes that we are all responsible for creating a just and sustainable world.
Elara Neath Thomin
Co-Head of Communications and the Development of Partnerships
Elara Neath Thomin is currently completing a Bachelor of Arts in political science and international development at McGill University. Before joining the Observatory, it was through her engagement with the student fossil fuel divestment movement that she expressed her desire to see a greener world come to life. She firmly believes that the rights of nature can transform our relationship to the environment and open the door to a fairer future.
Uapukun Metokosho
Innu Leader, Rights of Nature
Uapukun Mestokosho is a young leader from the Innu community of Ekuanitshit, located on the North Shore of Quebec, Canada.
She is always looking for ways to live with different peoples and cultures. She loves to travel around the world and has visited France, Sweden, Cuba, Mexico, the Dominican Republic, Brazil and the United States.
Her greatest passion is to travel her ancestral territory in search of her identity in order to discover the way of life of her ancestors and to protect her territory for future generations.
Already a guardian of Nitassinan, the ancestral territory of her Innu community, Uapukun is working with the OIDN to become a guardian of the Magpie River, the first river in Canada to receive legal status.
She is also candidate for Québec Solidaire in the provincial electoral district of Duplessis.
Valérie Ivy Hamelin
Leader First Nations Alliance Saint-Lawrence Rivers Project
Valérie Ivy Hamelin is a member of the Micmac community of Gespeg in Gaspésie. She is an activist for the protection of the territory and positions herself as a water carrier. She has collaborated with different organizations for the protection of the environment and with Indigenous communities. She has been an activist for many years for the protection of water, rivers, and the ocean and against the invasion of oil companies on the territory of Gaspésie.
She participated as a panelist at the Forum Against Extractivism in May 2018 in Montreal, offering a panel on the violence experienced by indigenous women in resistance. She was invited to the Global Forum Against Extractivism in South Africa in November 2018, a conference that brought together women from over 60 countries, who are fighting for the protection of their territory.
She is also a multidisciplinary artist, expressing herself on the flute, and by singing, storytelling, indigenous drumming, African percussion, and dance (powow, African and gumboots dance). She has been performing on stage for over 15 years and has recorded 3 albums to date, including Nibi Sisters, an album of indigenous songs and prayers.
Her father was born on the ancestral lands and grew up with the teachings of his mother and grandmother, respecting mother earth. He shared with her his love for Nature and his sacred connection to the land. He taught her medicinal plants, bow hunting and snaring with respect and gratitude.
Valerie is an involved member of her community and the Indigenous community, both militant, cultural and spiritual. She enjoys listening to the stories shared by her Elders and deepening her connection to her culture through singing, drumming and storytelling.
She manages her own company of artistic diffusion in world music, musical animation, music and dance workshops and has been offering make-up services for more than 12 years (www.mosaicultures.com).
Helena-Vallée-Dallaire
River protection awareness agent
Helena is passionate about decompartmentalization: intergenerational and interdisciplinary contact, and connections between people of all ages and backgrounds is what drives her at all times. A visual artist, she has studied with several leading artists of the figurative revival in the United States and Europe and holds an masters degree from the New York Academy of Art. Her work primarily addresses the relationship between humans and their natural environment. Since 2018, she has been working as a cultural mediator at the Montreal Museum of Fine Arts and is actively involved in various environmental protection projects, notably through ENvironnement JEUnesse's Jeunes Leaders en environnement program, as well as in the citizen group MARE Laurentides (Mouvement d'Action Régionale en Environnement). As a project manager for À la rencontre du fleuve, she is involved in environmental education with the organization Waterlution to raise awareness about water protection and to take part in shoreline cleanups. She hopes that her love for the beauty and importance of the river can be contagious!
Currently a doctoral student at Laval University in Geographic Sciences, he holds a Bachelor's degree in Geography and a Master's degree in Geography, specializing in Coastal Environment at Cheikh Anta Diop University in Dakar. His doctoral research topic is "Analysis of the decision system of municipalities in the area of road salt application in the St. Lawrence River Valley" under the direction of Professor Nathalie Gravel. As part of his university research, he has been interested in the field of water pollution by hydrocarbons, stormwater and wastewater and the impact on the terrestrial and marine environment. In this regard, he conducted a field study in 2020 on marine oil pollution around the autonomous port of Dakar. He has also done internships at the Ministry of Environment and Sustainable Development (sustainable management of marine protected areas in the face of threats related to anthropogenic activities) as well as at the City Hall of Guédiawaye: (preservation of natural resources and fight against wastewater discharges in the city). He has also done training in : QHSE (Quality, Hygiene, Safety and Environment) and Environmental Impact Assessment on major projects.
Me Giuliana Merino Guerrero
Intern
Giuliana Merino Guerrero studied law in Peru. Afterwards, she worked for 7 years as a lawyer in the public sector, at the Ministry of Transport and Communications in the field of telecommunications.
In 2009, Giuliana volunteered, working with communities near the Peruvian jungle, an experience that contributed greatly to the development of her professional and personal life. It was then that she decided to specialize in environmental issues.
In 2019, she volunteered as part of the group Young Peruvians Against Climate Change, which allowed her to participate in civil society and executive meetings and propose legislative and regulatory changes to current laws on climate change.
Today, she is completing her Masters in Environment and Sustainable Development, specializing in social issues and governance at the Université de Montréal.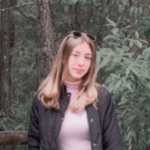 Valeria Garcia Sanchez
Intern
Valeria Garcia Sanchez is 19 years old and the eldest of three sisters. She is currently studying law at the University of Guadalajara, where she will soon finish the third semester. In the afternoons, she studies English at Proulex, a language school which has an agreement with her university. Once she has mastered English, she would like to study either French or Korean. Some of her favorite pastimes are biking, exercising, viewing documentaries on various topics and reading.
She is a very responsible person regarding academic and work matters, in addition to always enjoying the discovery of new things which can help her country and the world more largely. In preparatory school, she took a yoga course for about a year and a half which enabled her to explore multiple themes related to the wellbeing of the environment and of humanity. Additionally, she has participated in various science fairs and cultural weeks organized by her school.
Bradley Wiseman is a recent law graduate of the Université de Montréal (LL.B., J.D.). Keenly interested in environmental law, Indigenous law, and constitutional law, he has worked as a research assistant at the Centre de recherche en droit public and with several law professors specializing in these areas. His work experiences at the Centre québécois du droit de l'environnement and the Indigenous law firm Dionne Schulze have allowed him to see first-hand how the law interacts with these issues of vital importance to our society.
His strong passion for social and environmental justice has driven him to be actively involved in various social causes, notably as President of the Indigenous Law Committee and Vice-President of the Environmental Law Committee of the Université de Montréal. In 2015, he was certified as a Climate Leader by the Climate Reality organization upon completing a training session given by Al Gore.